NENY Battery Academy A WORKFORCE TRAINING COLLECTIVE​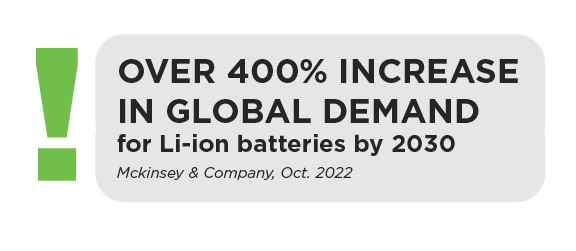 At the current rate of growth, more than 200,000 new jobs will be required by 2030 to support US battery storage supply chain demand. This demand will far outstrip the existing workforce, creating a need to grow U.S. capacity approximately 4x by 2030. In NYS, this need translates to 15,000 manufacturing jobs in the battery industry in the next 5 years. Preceded by an immediate need of more than 500 jobs in the next 12 to 18 months, thus creating a critical need for new workforce methodologies and partnerships.
The New Energy New York Battery Academy will provide comprehensive workforce programs that support training, upskilling, and reskilling along the entire battery value chain. The Battery Academy includes an online platform administered by Binghamton University and supported by InnoEnergy educational resources. In addition to online workforce training, the Battery Academy also offers in-person labs and virtual reality learning prioritizing safety and hands-on skill development. Our partner institutions RIT, SUNY Broome Community College, Broome-Tioga BOCES, Broome-Tioga Workforce and Corning Community college will offer workshops, summer camps, and workforce training covering K-12 to battery expert level. 
Technician and Expert Training at NENY Battery Academy

CUSTOMIZED TRAINING
Customized course packages for industry:  we will support the regional workforce needs by providing customized training for regional battery industry stakeholders. If you are interested in learning more about how we can help your organization with workforce training please reach out to the NENY Battery Academy team at astromha@binghamton.edu.
INSTITUTION-SPECIFIC TRAINING – launching summer/fall 2023
Rochester Institute of Technology (RIT): Will host multiple 2-day workshops and trainings starting in June 2023 that will cover battery technologies and manufacturing with a focus on lithium-ion chemistry. The training will provide a unique combination of hands-on experience on automated manufacturing equipment in the Battery Prototyping Center (BPC) and access to specialized RIT faculty members.  Please contact Dr. Matthew Ganter (mjgvpr@rit.edu) for more information. 

SUNY Broome Community College: Targeting High School Students SUNY Broome Community College will launch the Battery Science Institute in July of 2023. The program will include active hands-on learning in introductory courses in Battery Chemistry, Safety Training that incorporates virtual reality, and introduction to manufacturing, as well as career explorations coupled with industry visits.

Broome-Tioga BOCES: Targeting high school students from 15 local school districts, Broome-Tioga BOCES will launch a two-year career and technical education Clean Energy and Battery Storage Course. The students will learn and work side by side with the local experts in the energy sector to expand their employable skills for future career goals.
NENY Battery Academy Course Catalog
Battery Framework Grouping

Related NENY Battery Academy Courses

Fundamentals of Batteries

Technician Course 1: Functioning of a Battery and Main Types

Technician Course 2: Basic Technical Battery Characteristics

Technician Course 3: Battery Modules and Components of Batteries

Expert Course 1: Battery storage and the energy transition

Expert Course 2: Fundamentals on Batteries

Development and Manufacturing

Technician Course 5: Safety and Regulation

Expert Course 3: Battery Storage Value Chain

Expert Course 4: Battery Management, Connection and Control

Technician Course 4: Power Converters

Technician Course 5: Safety and Regulation

Technician Course 6: Stationary Applications

Technician Course 7: Mobile Applications & Small Electrical Devices

Expert Course 5: Battery Storage Applications

Expert Course 6: Battery storage: Business models, market and regulation

Recycling and Second Life Processes

Technician Course 8: End-of-Life, Second Life, and Recycling

Technician Course 1: Functioning of a Battery and Main Types

Technician Course 2: Basic Technical Battery Characteristics

Expert Course 2: Fundamentals on Batteries

Technician Course 3: Battery Modules and Components of Batteries

Technician Course 5: Safety and Regulation

Technician Course 4: Power Converters

Technician Course 5: Safety and Regulation

Expert Course 4: Battery Management, Connection and Control

Technician Course 6: Stationary Applications

Technician Course 7: Mobile Applications & Small Electrical Devices

Expert Course 1: Battery storage and the energy transition

Expert Course 5: Battery Storage Applications

Expert Course 6: Battery storage: Business models, market and regulation

Technician Course 8: End-of-Life, Second Life, and Recycling

Expert Course 3: Battery Storage Value Chain

Education (General, or specialized knowledge)

Technician Course 1: Functioning of a Battery and Main Types

Technician Course 2: Basic Technical Battery Characteristics

Technician Course 3: Battery Modules and Components of Batteries

Technician Course 6: Stationary Applications

Expert Course 1: Battery storage and the energy transition

Expert Course 2: Fundamentals on Batteries

Commercial (Research & Development)

Technician Course 3: Battery Modules and Components of Batteries

Technician Course 4: Power Converters

Technician Course 5: Safety and Regulation

Technician Course 7: Mobile Applications & Small Electrical Devices

Technician Course 8: End-of-Life, Second Life, and Recycling

Expert Course 3: Battery Storage Value Chain

Expert Course 4: Battery Management, Connection and Control

Expert Course 6: Battery storage: Business models, market and regulation

Industrial (Manufacturing, Process, Scaling Systems)

Technician Course 4: Power Converters

Technician Course 5: Safety and Regulation

Technician Course 6: Stationary Applications

Technician Course 7: Mobile Applications & Small Electrical Devices

Technician Course 8: End-of-Life, Second Life, and Recycling

Expert Course 3: Battery Storage Value Chain

Expert Course 5: Battery Storage Applications
Battery Framework Grouping

Related NENY Battery Academy Courses

Course Link

Fundamentals of Batteries

Technician Course 1: Functioning of a Battery and Main Types

Technician Course 2: Basic Technical Battery Characteristics

Technician Course 3: Battery Modules and Components of Batteries

Expert Course 1: Battery storage and the energy transition

Expert Course 2: Fundamentals on Batteries

Development and Manufacturing

Technician Course 5: Safety and Regulation

Expert Course 3: Battery Storage Value Chain

Expert Course 4: Battery Management, Connection and Control

Technician Course 4: Power Converters

Technician Course 5: Safety and Regulation

Technician Course 6: Stationary Applications

Technician Course 7: Mobile Applications & Small Electrical Devices

Expert Course 5: Battery Storage Applications

Expert Course 6: Battery storage: Business models, market and regulation

Recycling and Second Life Processes

Technician Course 8: End-of-Life, Second Life, and Recycling

Technician Course 1: Functioning of a Battery and Main Types

Technician Course 2: Basic Technical Battery Characteristics

Expert Course 2: Fundamentals on Batteries

Technician Course 3: Battery Modules and Components of Batteries

Technician Course 5: Safety and Regulation

Technician Course 4: Power Converters

Technician Course 5: Safety and Regulation

Expert Course 4: Battery Management, Connection and Control

Technician Course 6: Stationary Applications

Technician Course 7: Mobile Applications & Small Electrical Devices

Expert Course 1: Battery storage and the energy transition

Expert Course 5: Battery Storage Applications

Expert Course 6: Battery storage: Business models, market and regulation

Technician Course 8: End-of-Life, Second Life, and Recycling

Expert Course 3: Battery Storage Value Chain

Education (General, or specialized knowledge)

Technician Course 1: Functioning of a Battery and Main Types

Technician Course 2: Basic Technical Battery Characteristics

Technician Course 3: Battery Modules and Components of Batteries

Technician Course 6: Stationary Applications

Expert Course 1: Battery storage and the energy transition

Expert Course 2: Fundamentals on Batteries

Commercial (Research & Development)

Technician Course 3: Battery Modules and Components of Batteries

Technician Course 4: Power Converters

Technician Course 5: Safety and Regulation

Technician Course 7: Mobile Applications & Small Electrical Devices

Technician Course 8: End-of-Life, Second Life, and Recycling

Expert Course 3: Battery Storage Value Chain

Expert Course 4: Battery Management, Connection and Control

Expert Course 6: Battery storage: Business models, market and regulation

Industrial (Manufacturing, Process, Scaling Systems)

Technician Course 4: Power Converters

Technician Course 5: Safety and Regulation

Technician Course 6: Stationary Applications

Technician Course 7: Mobile Applications & Small Electrical Devices

Technician Course 8: End-of-Life, Second Life, and Recycling

Expert Course 3: Battery Storage Value Chain

Expert Course 5: Battery Storage Applications