Making MWBE Workforce Development and Entrepreneurship Connections in New York State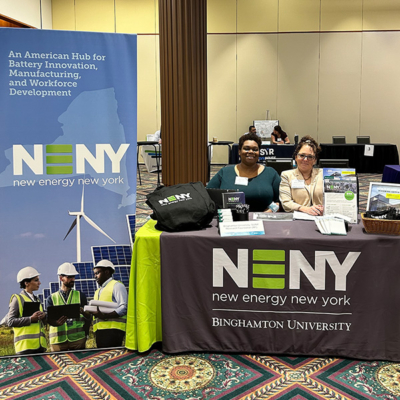 August 30, 2023 – Staff
In a step towards fostering clean energy innovation and promoting diversity in entrepreneurship, New Energy New York (NENY) staff embarked on a journey to Syracuse in June for the New York State Regional MWBE Opportunities Expo. It was the second of three expos throughout the state this summer,  and this marked the first in-person convening since the pandemic's onset in 2020 and held immense significance for New York's business landscape. 
Hosted in the heart of central New York, the event spotlighted local businesses while serving as a vital platform for those new to government procurement. The NYS Regional MWBE Opportunities Expo is more than just an assembly of entrepreneurs and state agencies – it's a nexus of possibilities where emerging ventures intersect with potential clients. In a world where connections can transform the trajectory of a business, this event held an exceptional allure. Interaction with state-level officials and buyers on such a scale used to be a rare occasion, open expos provide an unparalleled opportunity for business owners to familiarize themselves with the key players in New York state's economic arena. 
The event itinerary was nothing short of inspiring for entrepreneurs, featuring addresses from eminent figures such as the Executive Vice President of NYS Division of Minority and Women's Business Development (DMWBD), Jason Myles Clark, alongside representatives from NY Empire State Development (ESD). With their fingers on the pulse of statewide economic development, these speakers and their offices wield substantial influence in paving the path to success in state contracting. 
One of NENY's project initiatives is to bolster the representation of under-resourced communities within the supply chain by 20 percentage points over the next three years. Bearing this mission in mind, NENY's dedicated staff seized the opportunity to engage with local businesses and vendors at the expo. Joining the inspirational lineup of presenters at the expo were NENY's Director of Workforce Development, Stacey Johnson, and Associate Director of Equity and Justice, Ebony Hattoh. Johnson and Hattoh talked with the audience about exciting developments with NENY's vision and the contracting opportunities poised to unfold due to their efforts, particularly in expanded lithium-ion battery manufacturing. 
"I'm proud to see how our state's commitment to diversity and empowerment drives positive change. Our collective presence amplifies this message that inclusivity isn't a goal – it is a powerful force shaping the future of business in New York, evident by the $24B in state contracts with WMBD companies," says Johnson. 
Diverse businesses, some traveling from long distances like Chicago, IL to Syracuse, NY filled the convention space, underlining the event's inclusive nature. State authorities, representing a spectrum of sectors, lent further depth to the event's dynamic participant base. 
As NENY's network of diverse suppliers grows, the eagerness to engage with the battery industry's finest is palpable. Hattoh captures the essence of the expo experience as a seasoned attendee and entrepreneur herself. "I have been to the expo in prior years, but surrounding yourself with other NYS businesses looking to increase their supplier diversity was encouraging. I spent many years bootstrapping and looking for an opportunity to break into the industry. MWBE expos give that opportunity and good insight into the industry that you can only learn through immersion. I am hoping we can bring more Southern Tier regional businesses and Binghamton-based businesses to the event next year. The networking opportunities alone are priceless and endless! If all an individual can do is find a mentor, I would consider that a win!" 
Learn more about ESD's work for the MWBE community in New York State on their website. Entrepreneurs of all supported backgrounds and those facing barriers to access in our communities are encouraged to check out the Equity in Innovation Training Series led by Hattoh through NENY at the Koffman Southern Tier Incubator in Binghamton, NY