One of 16 Finalist Proposals for NSF Engines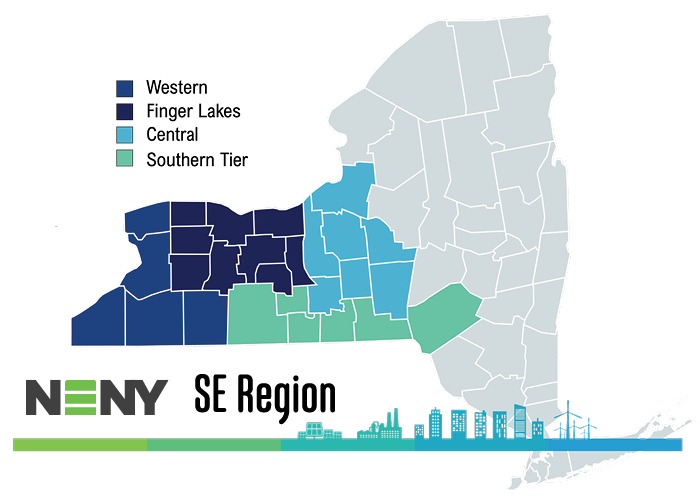 Growing the NENY Vision and Mission
The foundational 2022 EDA Build Back Better Regional Challenge initiative allowed our coalition to congregate and submit the New Energy New York Storage Engine (NENY-SE) to the NSF Regional Innovation
Engines opportunity. The proposal aims to bring together powerhouses of R&D and innovation with key private and public battery sector stakeholders to grow a battery technology ecosystem in Upstate NY with regional and national impacts, by driving academia-industry collaborations, accelerate technology transfer, and train an advanced manufacturing workforce.
Binghamton University and M. Stanley Whittingham, Nobel Laureate inventor of the Li-ion battery, have assembled a cross-sector coalition to establish a battery technology ecosystem in Upstate NY, centered around an emerging energy storage cluster and Imperium 3 NY, the state's first battery gigafactory. NENY- SE will drive academia-industry collaborations, accelerate technology transfer, and train an advanced manufacturing workforce. NSF Engines funding will propel the nascent ecosystem from growth to maturity, and exploit synergies by
Expanding the focus to the entire battery life-cycle

Extending the region of service

Mobilizing resources around use- inspired R&D to complement manufacturing initiatives

Growing strategic cross-sector partnerships.
This proposed NSF Engine will address the entire battery technology value chain to establish a tech-based, industry-driven innovation hub. With battery technology development and deployment involving multi- component distributed supply chains, NENY-SE's activities will cover the lifecycle spanning materials, components, cells, modules, and packs, system management, industrial applications, and recycling, with Industry Partners secured along each step.
What this funding will progress
Use-Inspired Research and Development
Translation Gap Funding
Sector Faculty Expansion
Industry Partnerships
Battery I-Corps Training
Fostering Collaborations
Technology Translation
Commercialization Fellows

Startup Sprints & Investments

Battery Accelerator Programs

Industry Challenge Grants

Pilot & Testing Infrastructure
Workforce Development
Battery Expert Program

Battery Technician Program

Storage Startup Internships

Regional Workforce Network

Pilot Program Grants
"We're proud of the Binghamton team that keeps working to make our region the epicenter for advancing battery technologies as well as the manufacturing hub of those batteries. It's imperative that the United States domesticates its battery supply chain, and federal efforts to support our work to make that happen are crucial"
"Domestic production of batteries and a secure supply chain are critical to U.S. and North American global competitiveness and economic stability, as well as key to reaching climate goals set by New York state and the federal government, NSF Engines funding will support technology innovation critical to meeting these goals"
"This is a tremendous opportunity for Upstate New York, With the depth and breadth we have when it comes to research expertise and infrastructure in energy storage available at Binghamton and our private and public partners, we will be able to supercharge innovation, technology transfer and commercialization of new technologies. With Senator Schumer and his team supporting us, we are confident we can transform our region, attract investment, create new jobs and fill those jobs with a skilled workforce."
"Binghamton is quickly becoming the beating heart of innovation for America's battery belt, and now because of my CHIPS [and] Science bill, the Southern Tier has the chance to supercharge its rapidly growing battery hub. I was proud to have delivered the game-changing $63.7M million investment to jumpstart the New Energy NY project, and with Binghamton a semifinalist in the National Science Foundation's Regional Innovation Engines Competition, they could win up to $160 million more," said Senator Schumer. "Batteries are the building blocks of modern technology and the lynchpin of the transition to a carbon-free economy."
"We are delighted that the New Energy New York Storage Engine proposal has made it to the next round and look forward to working with BU and the other partners to make upstate NY a national leader in battery technology"
"It is very gratifying to see the emergence of the lithium ion battery economic development ecosystem that is being driven by New Energy New York with support from our state and federal government. Establishing a NSF Engine for battery development to support NENY will ensure that this ecosystem will not only be able to compete with other parts of the world for battery manufacturing market share, but will be able to lead through the innovative science breakthroughs it would engender."
"The proposed NSF Engines program will not only enable complementary teams of world-renowned researchers to address next-generation energy storage challenges, it will inspire students to participate in the innovation of the very technologies needed to ensure a cleaner, more sustainable environment."
NY-BEST is proud to partner with Binghamton University for NSF Engines program funding to further catalyze and foster the battery and energy storage technology innovation ecosystem being developed in New York. Advanced batteries and energy storage are critical to addressing global climate change and NSF Engines funding will help support regional innovation, stimulate economic growth and job creation while also addressing the pressing global climate change challenge."
"Committed to venture development and advancing innovation, we at Launch NY are excited to be involved in the New Energy New York NSF Engines efforts, supporting energy storage technology translation and venture growth here in Upstate New York will not only have profound societal and national impacts, but ensure industry-driven and inclusive regional economic development."
"Acceleration of innovation cycle is critical for the U.S. economy to compete and build a cohesive domestic ecosystem for the battery manufacturing. In order to bring technologies faster to market and convert them into an affordable product is something we have been focused around past 10+ years and Binghamton University plays an important role into this. A new dimension to this is NENY, which when turbocharged with NSF Engine could mean an unbeatable support system, and everyone C4V as well as iM3NY is super excited to support this, be part of this and lead this as an active industrial partner."
"The transportation sector produces the largest share of greenhouse gas emissions in the United States. Battery is a key component in electric vehicles, which will significantly reduce the amount of carbon emissions. NSF Engines funding will facilitate the development of new battery technologies for a green world."
Partners of NENY Storage Engines
Binghamton University | Activate Global | Alliance for Technology & Manufacturing | Koffman Southern Tier Incubator | Broome Tioga BOCES | Broome County/Broome Tioga Workforce | Charge CCCV (C4V) | Imperium 3 New York (IM3NY) | Columbia University | Cornell University | Corning Community College | DNV | EIT InnoEnergy | Electrovaya | Empire State Development (ESD) | Frontier | IncubatorWorks | Kodak | Launch NY | Li-Cycle | MITRE Corporation | New York Battery and Energy Storage Technology Consortium (NY-BEST) | NYSEG | New York State Energy Research and Development Authority (NYSERDA) | The Raymond Corporation | Recharge Industries | Research Foundation for the State University of New York (RF SUNY) | Rochester Institute of Technology | Scale Facilitation | Schneider Electric | Social Finance | Southern Door Community Land Trust | Southern Tier 8 | SUNY Broome Community College | Syracuse University | The Clean Fight | TechConnect | Viridi